15 Apr 2018
Home
»
Viral News
» Starbucks apologizes after viral video shows cops in a Philadelphia store arresting 2 black men who witnesses say 'didn't do anything'
Starbucks apologizes after viral video shows cops in a Philadelphia store arresting 2 black men who witnesses say 'didn't do anything'
Posted in Viral News By eggshoe On April 15, 2018
UP NEXT
Despite UN Warning, Rohingya Family Returns To Myanmar

A Rohingya family of five were repatriated in Myanmar Saturday. They were among the nearly 700,000 refugees who'd fled to Bangladesh. The army says its crackdown was provoked by the attacks of Rohingya militants. The move came despite a UN warning that the country isn't ready for their return.

Wochit News

Costco Workers May Love Their Jobs, But They'd Never Buy These Things There

Costco employees are known for being loyal and hardworking. That doesn't mean they're not savvy shoppers, though. In fact, BI surveyed 27 Costco employees to find out what they'd never buy there. The most common response was perishables, such as fruit, vegetables, and baked goods. One worker said the fruit went off too quickly. Others said the sizes were just too large. Shoes and Kirkland brand clothing also featured high on the do-not-buy list. And one refuses to buy condoms there!

Wochit News

Kobe Bryant Said His Los Angeles Lakers Team Would Beat The Golden State Warriors

Kobe Bryant thinks his Los Angeles Lakers team would have dominated today's NBA teams. Bryant called the teams of today "small-ball" teams. He said people don't understand how they "controlled paced and tempo." The basketball player said Shaquille O'Neal was key to their game. Bryant said: "The game is always chopped up because you're always drawing fouls all the time."

Wochit News
UP NEXT
Starbucks apologized on Saturday amid a wave of online backlash over a viral video that showed police arresting two black men inside a Philadelphia store while bystanders protested that the men "didn't do anything."
The video, posted by Twitter user Melissa DePino, shows several police officers handcuffing the two men and leading them out of the store, while one person who said he was meeting the two men repeatedly asks, "What did they do?"
At one point, one officer can be seen telling the man that police received a call from the store. The man replies, "What did they get called for? That there are two black guys sitting there meeting me?"
Another bystander responds, "They didn't do anything. I saw the entire thing."
© Business Insider The coffee giant released a statement via Twitter that said the company plans to review its policies to ensure the incident doesn't happen again.
"We apologize to the two individuals and our customers and are disappointed this led to an arrest," the statement read. "We take these matters seriously and clearly have more work to do when it comes to how we handle incidents in our stores."
But Philadelphia Police Commissioner Richard Ross pushed back against the perception that the officers had no cause for arrest — he said Saturday that the officers "did absolutely nothing wrong" and had legal standing to arrest the men.
Ross said that officers had been called to the store by Starbucks employees, who complained that the men were trespassing.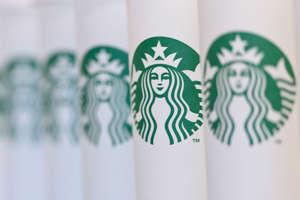 © Ben Pruchnie/Getty Images Ross said the men had asked Starbucks employees to use the restroom, and the employees had declined, citing company policy that prohibits non-paying members of the public from using the restrooms.
The men then refused to leave the store at the employees' request, prompting the call to police, according to Ross. He added that the officers who arrived asked the men to leave three times, and the men continued to refuse.
"[The officers] followed policy, they did what they were supposed to do, they were professional in all their dealings with these gentlemen, and instead they got the opposite back," Ross said in a video posted to the department's Facebook page.
"I will say that as an African-American man, I am very aware of implicit bias. We are committed to fair and unbiased policing, and anything less than that will not be tolerated in this department."
Ross said the men were ultimately released from the police station after Starbucks "was no longer interested in prosecuting." But a spokesman for District Attorney Larry Krasner told the Philadelphia Inquirer that the men were released "because of lack of evidence" of a crime.
We apologize to the two individuals and our customers for what took place at our Philadelphia store on Thursday. pic.twitter.com/suUsytXHks

— Starbucks Coffee (@Starbucks) 14 April 2018
About Author
eggshoe